Published a new poster of military adventure action "T-34»S Alexander Petrov, Irina Staryshenbaum и Victor Dobronravov starring. Staged painting engaged Alexey Sidorov ("Fight with the shadow","The Brigade"), He also wrote the script.
The plot begins in 1941 year. In the battles at the Volokolamsky boundary, the tank of the second lieutenant Ivushkin destroys the tank company of the Hauptmann Klaus Jager and "dies" himself. Two surviving tankmen - Ivushkin and the driver-driver Vasilenok - find themselves in German captivity, where they spend a long three years. In the spring of 1944, the Wehrmacht command instructs the tank helper Oberst Jager to lead the Ordruf range and turn it into a training center for elite tank forces, using the newest T-34 captured at the front as targets. Here, Yager and Ivushkin face a second time. The Soviet tankman, despite the discontent of his comrades and the camp underground, suddenly agrees to lead a group of prisoners of war who are destined to become "cannon fodder" on captured T-34.
There comes the "X-day", a high command from the General Staff arrives at the site, but everything goes wrong - Ivushkin uses the teachings for a daring and carefully planned escape. Thanks to the heroism of the comrades and the confusion of the Germans, Soviet tankmen are at large. Ahead - a provincial and undeveloped Germanic outback, to the border with the Czech Republic - 350 kilometers, and on the tail of the Soviet crew - a dozen "Panther" led by one of the best tankmen of the Reich Klaus Jager.
"T-34 is our biggest project for the last five years," says the general producer of Mars Media Ruben Dishdishyan. "We shot five films with Alexey Sidorov, and I consider him one of the most talented directors and screenwriters in the country. Our task is to make the picture as dynamic as possible, modern, focused on different audiences so that it will be spectacular - for young people who are used to seeing the best genre Hollywood examples, and at the same time with a deeply exciting story, characters - for older people. I think T-34 has everything to become an event film. "
The duties of the producers also took over Leonard Blavatnik и Nelly YaralovaThe film cast is also involved. Peter Skvortsov, Semen Treskunov, Artem Bystrov, Mikael Janibekyan, Nikita Kukushkin и Vincentz Kiefer.
The wide-box "T-34" starts on January 1.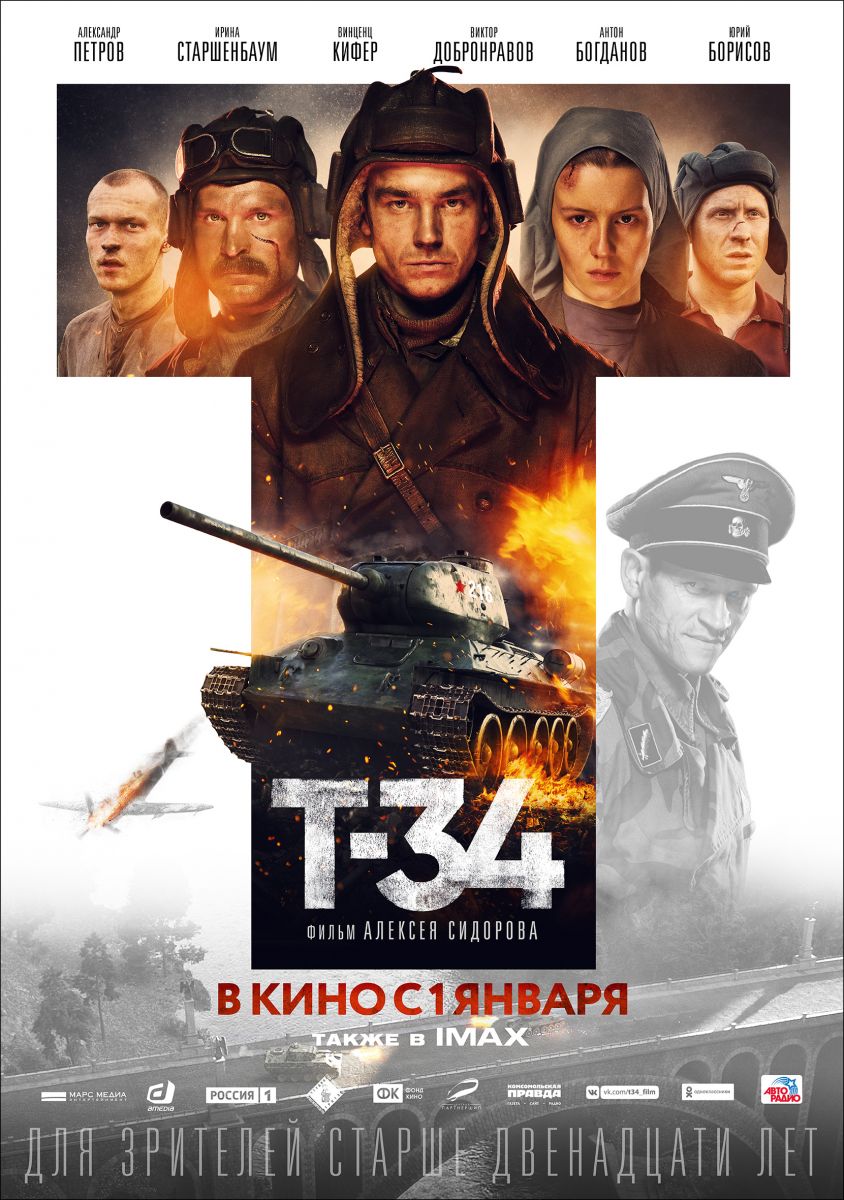 Stay tuned and get fresh reviews, compilations and news about the movies first!



Yandex Zen |
Instagram |
Telegram |

Twitter