Inventive fantastic action, which makes one more time to be sure - genre cinema and in 2018 can be surprising.
Gray Trace is a retrograde in the world of progressive cyberpunk: while everyone around happily augments everything that can only be augmented, he prefers to work with his own hands and with his own head. But after the unknown robbers kill Gray's wife, and he himself is sent to a wheelchair, the hero has to give up principles. He accepts the offer of a young businessman and allows him to introduce a special chip into his head, which should put Gray back on his feet. That's only the work of his chip named Stem (which, by the way, is quite reasonable and can even talk to the owner) somewhat surpasses: Gray does not just start walking, but becomes deadly ninja killer. Having received new abilities, he is the first thing to go in search of the murderers of his wife.
Li Wonnelle - the author, frankly, is ambiguous. For a long time he worked with James Wang, together with him created "Saw"And"Astral", Of which he hardly ever got out. His last notable appearance outside of these franchises was in 2014, when Woonnell wrote the script for comedy horror "Kutis", To the pain of a disgusting film about which everyone has already safely forgotten. But after the third "Astral", His artless and faded directorial debut, Wonnel sharply changed the vector of creativity, exchanged James Wang for Jason Bloom and launched into production sai-fi fighter "Upgrade." And, it seems, finally found his calling.
Shot from the movie "Upgrade"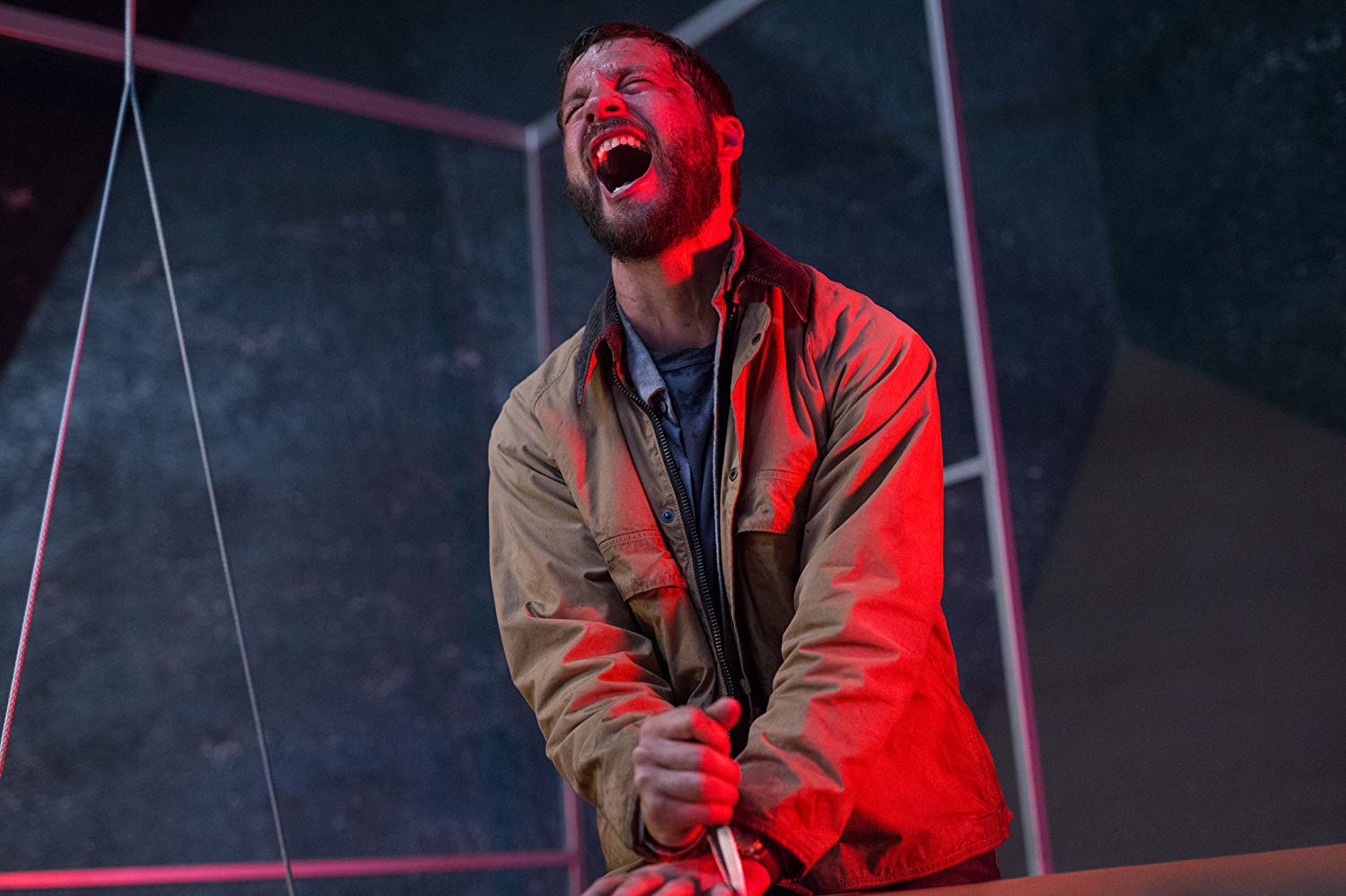 "Upgrade" is a cinematic analogue of the program "Ochumelnye pens", where from debris and other improvised materials you will be made a bird feeder, a vacuum cleaner, and even a nuclear warhead. Here, too, Lee Wonnell, with secondary plot paths and moves in hand, was able to compile a story that does not often cause a feeling of deja vu.
On the surface here again a plot about revenge, evil corporations and plot conspiracies, but it's interesting how the director builds intrigue from them. The film seems to play with the viewer in a perverse variation of the leapfrog: when you think that you have figured out the next plot twist, it turns out that this turn was not a turn at all - there is another one behind it. Where more, shall we say, rotary.
Shot from the movie "Upgrade"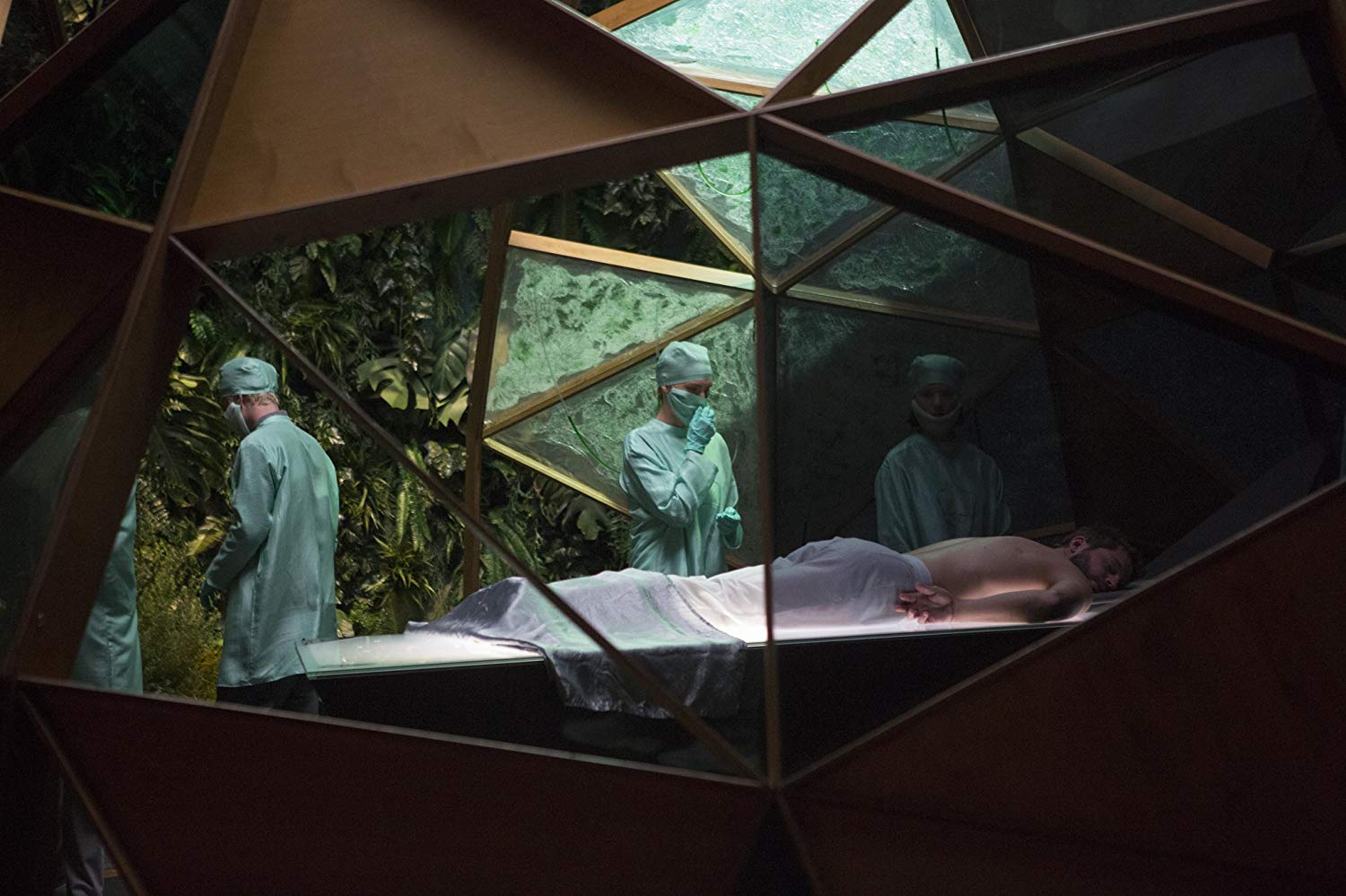 For the time being, the "Upgrade" shows itself as a simple genre militant: here we'll shoot, we'll cheerfully cook there, bang-bats, pi-piu, everyone is happy. The plot and some kind of disclosure of the world in such conditions are perceived as a mere formality: they say, we need some kind of support for fighting, and it will come down. But the finale puts everything on its head - the "Upgrade" appears though not a deep, but still a double bottom.
The film in retrospect looks somewhat different, from the cyberpunk "John Wick"Turns into an exemplary story by Philip K. Dick. Only instead of self-interest and philosophical reflections on the theme "Do they dream ..." here is an inventive shooter. However, so it is better - for the former we always have "Blade Runner"And on its territory, Wonnell did not reasonably meddle.
Shot from the movie "Upgrade"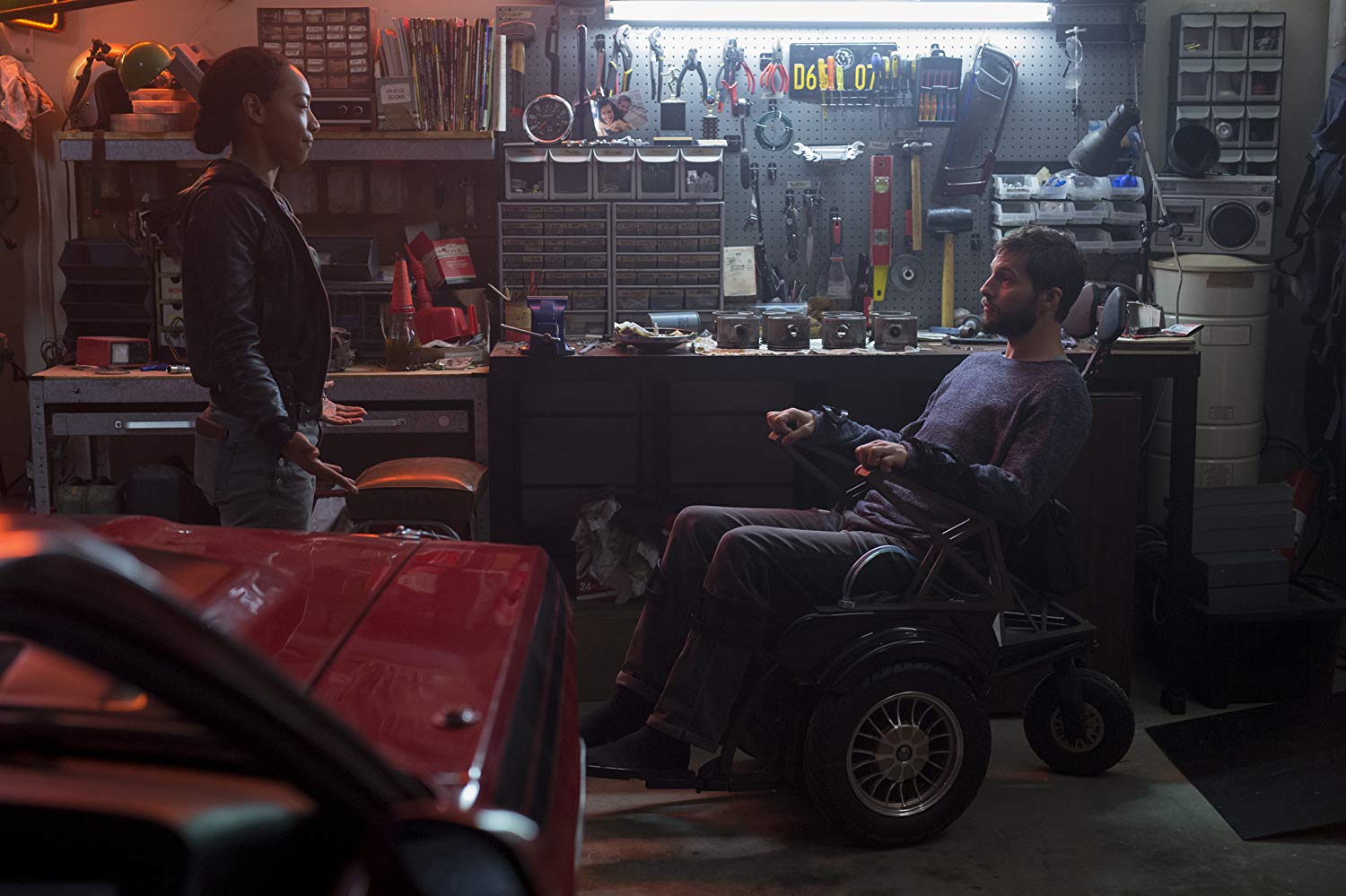 In general, it's amazing how cool it is possible to shoot an action, if at least occasionally include imagination and go beyond the template "close-up, medium plan, camera shook, and editing". Najshuller has thought up to shoot an action from the first person, Уненелл has made a step aside and fixed focus of the chamber on the hero. The reception is not difficult, but it looks good - especially when it works on the story and the character.
A specific shooting method adds an image of the necessary "artificiality" and makes one believe that the actor is actually controlled by a computer chip. However, this is not only a technical merit: without stunning plasticity Logan Marshall-Green (by the way, while his best role), the reception would not work.
Shot from the movie "Upgrade"
The external ingenuity of the film is not hampered by either a clearly limited budget or modest scenery: "Upgrade" is almost never selected from dark corridors, warehouses, garages and basements. But the attacks of claustrophobia if they are threatened by someone, then only closer to the end, when the film is somewhat exhaled and a series of narrow rooms starts to tire a little.
For such moments, Wonnell has one ace in his sleeve, hidden since the times of the "Saw". In the "Upgrade" he does not hesitate to dilute fights with scenes of almost operational cruelty - and, unlike the same "Saw", where the spectator quickly developed tolerance for flying brains and guts from everywhere, here she really beats her nerves.
Join our channel in Telegram, so as not to miss anything!
Stay tuned and get fresh reviews, compilations and news about the movies first!



Yandex Zen |
Instagram |
Telegram |

Twitter