Dear comedy that life is not a sentence yet, and old age is quite a joy.
William has been trying to commit suicide for a long time, but he doesn't get out time after time - the "first aid" will bring down, then what other absurdity will happen. In front of one of his attempts, he receives a business card from some strange old man. It is written on that business card that its owner is a member of the killers guild (it turns out that there is one), and William decides that it is time to shift the care of his own death onto someone else's shoulders. He calls the number and hires old killer Lesley (Tom Wilkinson). And, of course, everything is not going according to plan. The book of William, which he so long and unsuccessfully tried to sell, suddenly appeals to one publisher, and the writer himself just as suddenly like the assistant to this publisher. In short, he no longer dies to die, and wants to - nothing can be done, the contract is a contract.
There is something ironic in the fact that the two most probably cute comedies of the year put the topic so tabooed in the center of history that you cannot even write about it without the intricate euphemisms. The first such comedy was the American festival kickshaw with Taikoi Vaitity and a very complex name: something about the "Seven Steps" and "Great Stork". There, a young couple settled into an apartment, where sectarians periodically drop in and make ritual in the bathroom, it is clear that. Now one more: this time the British, with the name a little bit simpler and, perhaps, even sweeter.
Shot from the movie "You will die, or we will return the money to you"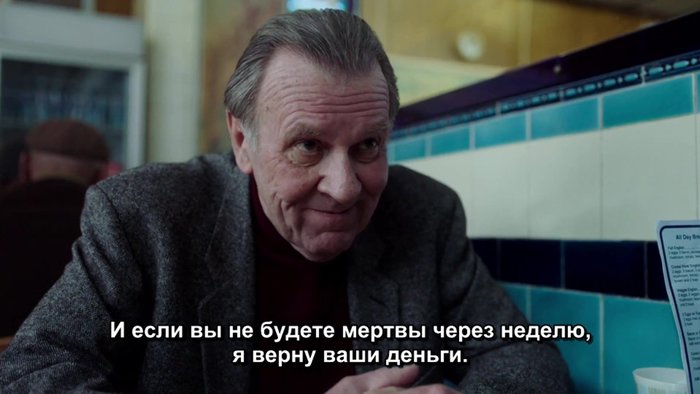 If the "Seven Steps", despite all the purely "Sanders" spontaneity (although the film did not happen on the "Sundance"), sometimes went into a light darkness and grinned, "You will die" - a movie of some amazing kindness. Soft, cozy, like a morning cup of English Breakfast tea or a hand-embroidered pillow with turtle doves. Yes, formally, this is a criminal comedy, even people are shot at, sometimes it is straightforward to death, but it is such a crime - in large quotes and wrapped in a warm woolen blanket.
This, probably, could have been made by the grandmother of the McDon brothers, having watched the films of their grandchildren mixed with the classic British television series. "You will die, or we will return the money to you" - the cinema is a theatrical, entirely conversational, very funny and somehow pleasantly ridiculous. Here, the heroes do not cease to be thrown with kindly wit, even when a person faces half their faces, and any dialogue tends to turn into an episode from a sketch of the sixties. Sometimes - when the severity fails too well - behind this formality the weak hand of the director is felt. It is true here, with the exception of a pair of inventive installation glues, it does not shine with fantasy. But more often, all this is perceived as a tribute to the traditions of the time when the British comedy did not know stylists like Guy Ritchie or Edgar Wright and relied only on the bare text.
Shot from the movie "You will die, or we will return the money to you"
The theme of nostalgia for the lost epoch Benny Hill and TV terry drama is generally the most interesting in the film. Much more interesting than the program history of a loser writer who can't take his life with him. He is with his sullen face and the existential problems of the level of an eighth-grader who has read several titles of Nietzsche's books and has instantly become wiser by ten times, like an archetypal reflection of the modern "hero" in principle. False mental problems, life is not life, death is not death, in general, deeply, do not look without scuba gear.
And here he is, such a knight of the sad image of the generation Z, meets an old-fashioned killer from those times when the murderers wore a long brown coat and even fired, it seems extremely polite. He is old, not the same at home - my dear wife, who has been promised a world cruise for a hundred years, at work is the hilarious Christopher Eccleston, who has long been trying to replace all old-hitmen with cold-blooded shaved Ivan. And in the center - Tom Wilkinson, in a funny turtleneck, alone against all, who does not want to retire at all, is desperately fighting for the right to be old, pathetic and ridiculous. He is like a reflection of the entire film - that, too, is, in general, somewhat archaic, optional, and a trifle. Well, let them: sometimes there is nothing fresh archaic, optional optional and more important than a mere trifle.
From November 29 to the cinema.
Stay tuned and get fresh reviews, compilations and news about the movies first!



Yandex Zen |
Instagram |
Telegram |

Twitter