It's not that rare to see the animated inserts in the feature film - with the help of cartoon titles, the necessary tone of the film is easily set, and the drawn insets inside the plot are good, for example, for depicting various kinds of dreams and hallucinations. However, few of the directors are waving at the rendering of a full-fledged cartoon character who would act on a par with the living heroes. We recalled the most noteworthy examples of using this technique, deliberately leaving behind the newfangled 3D techniques such as those found in Smurfs and Darwin's Mission (they need to devote a separate article). Only hand-drawn animation, only hardcore!
Still from the movie "Three Caballero"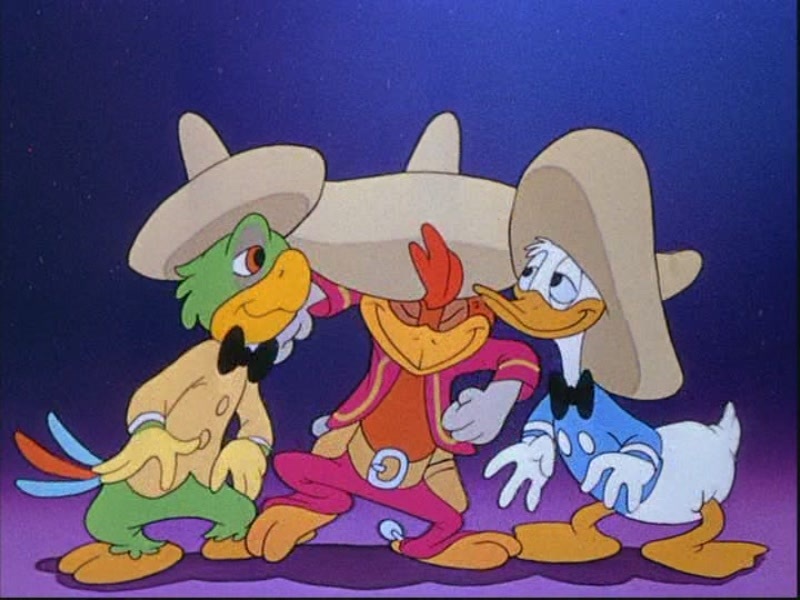 Mix the drawn elements with the gaming ones were also tried by the animation pioneers - Jay Stewart Blackton, Emil Kohl, Winzor McKay. For technical reasons, it was impossible to give a full-fledged "interactive" in the first decades of the last century, forcing people on the screen to communicate convincingly with the multpergoy, but at 1945, Disney's studio finally took this height. The Three Caballeros - a musical cartoon about the trip of Donald Duck in the company of parrot Jose Carioca and the cockerel Panchito - absorbed the impression of the founder of the studio from a trip to Latin America.
Joint dances and games of people with painted animals amaze the imagination, Donald demonstrates a somewhat atypical sexual duck for the duck, and from the psychedelic riot of colors sometimes just breathtaking. You can criticize the cartoon only for a story that is rather conditional and breaks up into separate segments. But, demonstrating the amusing visual kunshtyk, sometimes passing into a pure sur, Disney does not forget and educate - if your children do not know anything about Latin America, this trip will be cognitive for them.
Stay tuned and get fresh reviews, compilations and news about the movies first!



Yandex Zen |
Instagram |
Telegram |

Twitter