«
Saspiria
"- is a tribute
Luke Guadagnino
к
of the same name
cult classics
Dario Argento
. It can not be called a remake, it is rather a special look at the film, which the director was subdued since childhood. For the first time, the future cinematographer saw the poster by Argento on the poster of an abandoned cinema in northern Italy. Needless to say, 10-year-old Luca Guadagnino could not take his eyes off the image.
The story of the new film takes place in Berlin's 1977 Wall of the Year (that's when the original picture of Argento was released in theaters). At that time, the reports of the terrorist attacks of the "Red Army Faction" appeared on the news every day, and there was no mention of the fascist past of Germany. The air was thickly shrouded in universal fear and horrors of the past and present.
Before you start shooting in Suspiria, the actress Mia Got Immediately began the grueling workouts to prepare for the incredibly complex dance scenes that form the basis of the entire film.
Mia Got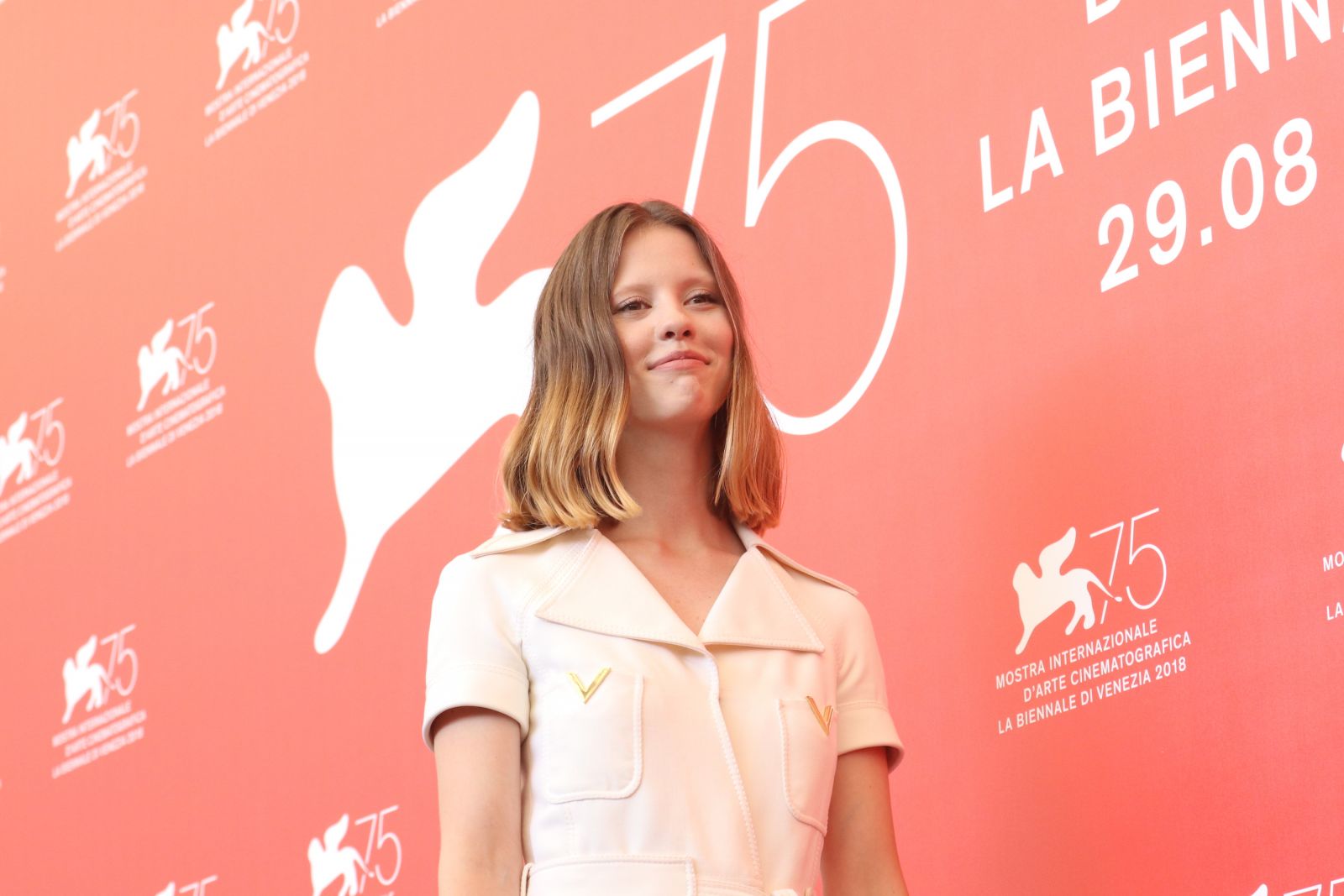 According to Mia, it was very hard for her, because she had never practiced dancing before. "Perhaps I'm the most awkward person in the world — I have two left legs," she laughs. - I was approved for the role, and 72 hours later I was already in Italy to start training. I understood that I had to start as early as possible so as not to expose myself as a complete idiot. ".
Mia Goth was born in London. In her youth, she built a career model, until she debuted in erotic drama Lars Von Trier «Nymphomaniac: Part 2". The filmography of the actress includes such paintings as "Survival Specialist", "Everest","Medication from health","Monastery of Shadows"And"Top-drawer».
Can you tell me about your heroine from Suspiria?
I play Sarah Sims, an Englishwoman from a very wealthy family that belongs to high society. The girl was lucky to become one of the dancers of the prestigious dance academy in Berlin. She meets with a new student Suzy (the main character of the film performed by Dakota Johnson) and conducts for her a tour of the school building. It is Sarah who takes the viewer by the hand and with him, wanting to get to the bottom of what is happening, goes down into the rabbit hole of this wild, completely insane world.
Later, Sarah begins with horror to suspect that the dance academy is run by witches?
Yes, but at first she completely refuses to believe it. Sarah doubts and opposes this idea, but then strange things start to happen more and more often, and she can no longer ignore them. It is incredibly interesting to watch how initially a happy and happy girl, devoid of any worries, suddenly finds herself in a situation that could cost her her life.
When did you first see the movie?
I watched it at the morning special show in Los Angeles. Then it was exciting to see him again at the Venice Film Festival, feeling the emotions of all the spectators. It was my first film festival, and I had never watched my film in such an environment.
Premiere of the film "Suspiriya"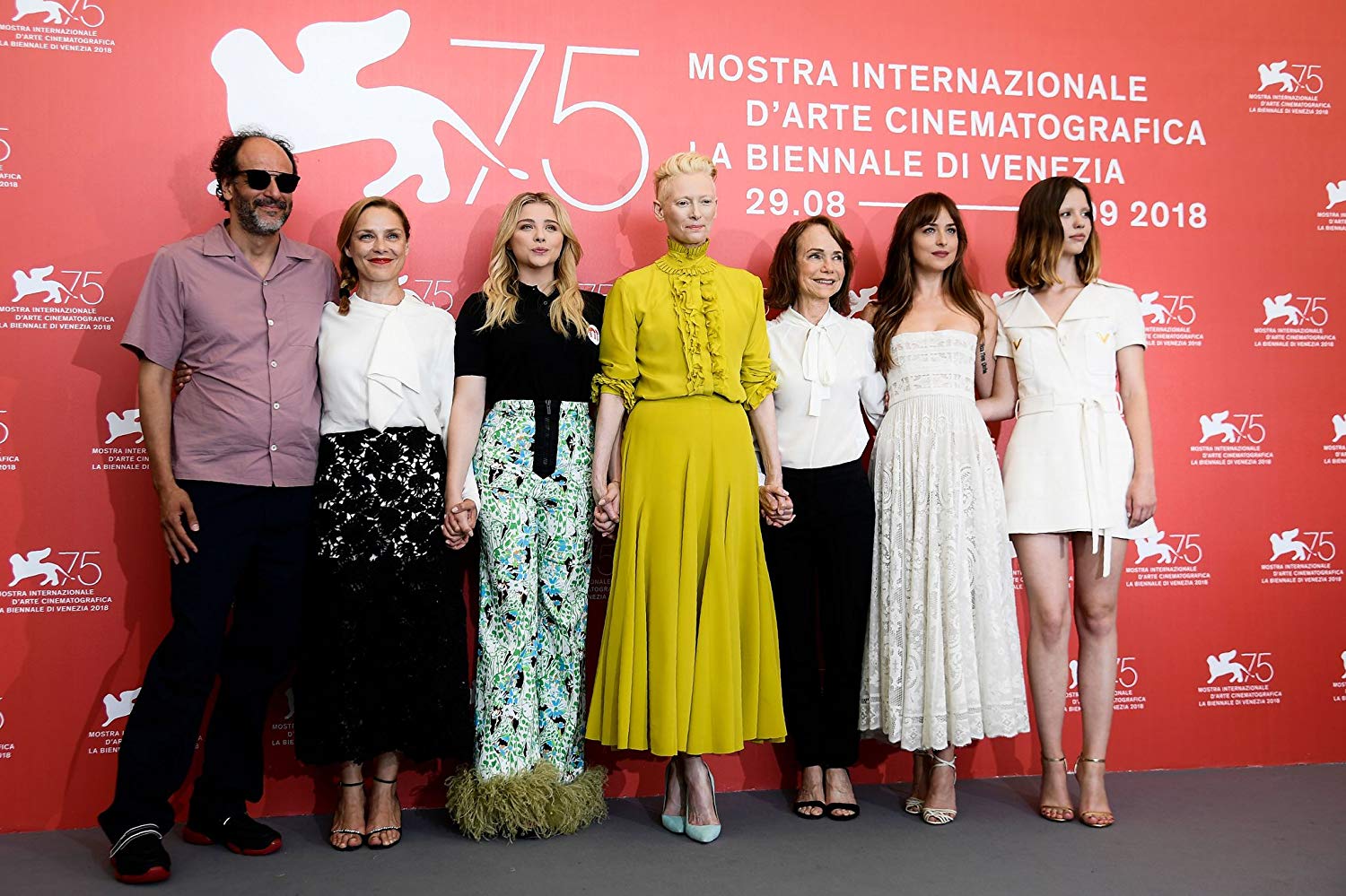 And what did you feel after watching?
I was wildly delighted after watching the latest version of the film with the soundtrack of Tom York and all the details worked out. You shoot one film, but in the end, when the montage is ready and everything is assembled into a single whole, you get something completely different. I experienced genuine pleasure from all the beauty and magic that Luke created. I am really proud of this work.
In the film, dance scenes are simply amazingly staged. How did you prepare for them? Have you been dancing before?
No never. Perhaps I am the most awkward person in the world - I have two left legs! (WITHthere is) I was approved for the role, and 72 hours later I was already in Italy to start training. I understood that I had to start as early as possible in order not to expose myself to be a complete idiot. We worked on the 10 hours 6-7 days a week. These girls train like true athletes - they are awesome. Dance classes change everything in you - your walk, the way you breathe, control your belly and feet, you start to monitor your diet - this was the best preparation for the film that I have ever experienced.
Did you train with other actors?
Yes with Dakota. For each of the actresses it was a very interesting, but difficult experience. I look back and understand that we all went through this with an incredible director, Luka, who was always ready to suggest the right direction in the work. It really helped me.
Cast of the film "Suspiriya"
And no more "two left legs"? Now you can dance, right?
I hope so. (Is laughing.) I definitely learned something new for myself. Now I know what self-expression is. Before, I never understood how much poetry is in dance: with the movements of my body under a certain rhythm, you can tell a story and express your own feelings. This experience has made an indelible impression on me, and now I come to admire people who devote their lives to dancing.
I'm sure you watched Luke's previous films. But how was it working with him? Did he surprise you?
Luca is a very passionate person, and that's what I like about him. He has hot blood, and he never gives reason to doubt his words. Luka always says sincerely what he thinks. I love these people. This is an important feature for the director, because you need someone you can trust. It motivates you and makes you move. When Luka realizes that you are capable of more, he speaks honestly about it. He will not rest until you give him what he wants. Sometimes it can be a bit annoying, but as soon as you manage to achieve the desired result, it becomes an invaluable experience that allows you to realize your own potential.
Do you like Tom york and radiohead?
Yes, and I became even a big fan of them after meeting with Tom. One of the first evenings in Italy, I, Luca, Tom, Dakota and a few more people went to dinner together. During the meal, Luka said in a piece: "By the way, Tom is an actor ..." I turned to Tom and asked: "Oh, so you're an actor? Where did you shoot? "He replied:" Actually, I'm a musician. " I said, "Oh, that's cool. What do you play? "He answered:" I sing ". Then he started talking about Paul Thomas AndersonI once read an article that Paul is working with Johnny Greenwood from Radiohead and making music videos for them. Comparing one with the other, I suddenly thought: "Oh my God ..." I just did not recognize his face, because of which I felt somewhat stupid. Then I traveled by car to San Francisco and listened to Radiohead on the road - this is an ideal way to thoroughly get acquainted with their work. Now I'm a big fan. And I am delighted with the music that he wrote for the film.
Frame from the movie "Suspiriya"
You saw the films of Luke and admired his work. Are you worried before your first meeting?
And how. Especially considering that I was new in the already established system. After all, he worked with many of these people for many years, during which they built very close and strong relationships with each other.
Including Tildawho worked with Luka on several films. Dakota also starred with him ...
Yes, and all the people behind the scenes - producers, costume designers, makeup artists ... everything. This is a very close-knit and friendly team. But Luke was so friendly, gallant and good-natured ... he literally took me to his world and helped me adapt. But excitement and fear do not pass until you get down to work. As soon as the shooting starts (and for this you were first and foremost called for this), you begin to understand that you are all equal with each other, you work for one goal, and then it becomes much calmer.
Let's talk about the witches. Do you agree that women were branded witches only because they were afraid of women?
Yes, in this way women tried to insult and defame. But I have a different view on this. In my opinion, a witch is a woman with amazing abilities. And this is in each of us - we live and thrive in a world that was not created for us. It seems to me that there is nothing more mystical than this.
Did you talk about it with Luka?
Not so much. While working on the character, I personally don't really think about the symbolism and meaning of the film, I'm just trying to survive and not screw it up. (He laughs.) I'm trying to find the true nature of the character and embody it as sincere as possible.
You starred in an abandoned hotel. Tell me, did it affect the general mood during the filming?
Every day we had to climb to the top of the mountain. The shooting took place in the middle of winter, there was a lot of snow, and the road to the old hotel, our filming location, took us about 20 minutes. Then you entered this grand building and seemed to be in a different era. You seemed to make a leap into the past - I felt like an actress in a movie Fellini Xnumx's. Plus, Luka is an incredibly charismatic and enthusiastic person with an open soul, I got great pleasure from working with him.
Are you able to keep the family atmosphere outside the set? Could you get together and have dinner?
Yes, definitely. This is the best part of the job: you create a whole world in which around 90 people have the good fortune to live for several months. You get the opportunity to escape from reality and create magic. Plus, Luka is incredibly fun - he is very funny and bold. This is what you want to see in directors and friends.
Frame from the movie "Suspiriya"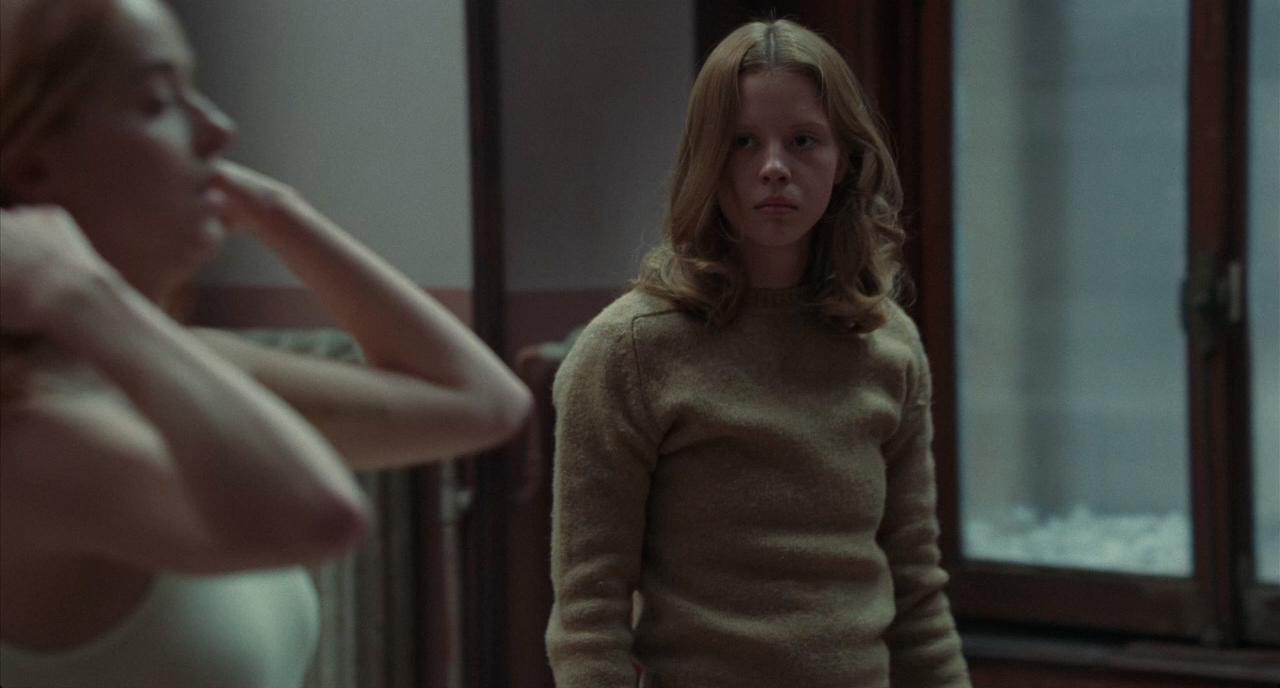 So you would like to work with him again?
I can only dream about it!
Are you living in LA?
Yes, already 6 months. I like it here. By the way, you know, my full name is Mia Gipsi Goat (Mia Gypsy Goth; Gypsy in translation from English means "Gypsy" - approx. ed.). Mom immediately after my birth realized that I would lead a nomadic lifestyle. Los Angeles is now my home, but I travel a lot and am not there all year round. I like to return to London, because I have a lot of friends there.
What does mom think about your career?
She is terribly proud of me, but at the same time she is often not trusted. She is proud and supports me in everything.
"Suspiria" in the movie from November 29.
Stay tuned and get fresh reviews, compilations and news about the movies first!



Yandex Zen |
Instagram |
Telegram |

Twitter