Movie released
Natalia Merkulova
и
Alexey Chupov
«
The man who surprised everyone
", For the role in which
Natalia Kudryashova
received a prize at the Venice Film Festival. And recently it became known that the producers of the film pushed him to the Golden Globe, so we will very much hope that "Man ..." will get on the short list.
We talked with Natalia and Alexey about the Venice Film Festival, the Siberian flavor and how the Russian audience reacts to the domestic author's cinema.
Tell me, how did the idea to make this film appear? Have you been inspired by the drake story? Or did you come up with it yourself?
Natasha: I heard this story about a person who fell ill with a severe form of oncology and decided to recover in such an unconventional way - a change of personality. They told this story as a kind of anecdote about how a man changed into a woman.
Alexei: How it ended, no one knows. Natasha told me that she heard this story, and we decided to write a script, putting this story in our time. As for drake: since one of the main themes of the film concerns the battle of man with death, we simply studied a lot of materials - Old Russian fairy tales, medieval legends of various nations, and based on everything we read, this legend about drake, which is collectively from what we have read.
You have probably already been told many times that this film is quite brave for Russia, do not you think that the overwhelming majority of the population may not be ready for this yet?
Alexei: This film is not for mass distribution, it is still not the mainstream, and we did not think that it would be seen by a huge audience.
Natasha: But what is surprising is that during the promotion of the film there were several special campaigns, and we saw some incredible reaction. We may have gotten such viewers, maybe we were really lucky, but as long as the movie is clear, people decipher the complex things that we encoded there. It's nice that the film gets such a lively response. Every time I am afraid that the movie will turn out cold and will not touch anyone, each time I struggle with this problem, because I am in this situation.
Ekaterina Filippova, Evgeny Tsyganov, Natalya Kudryashova, Natalya Merkulova and Alexey Chupov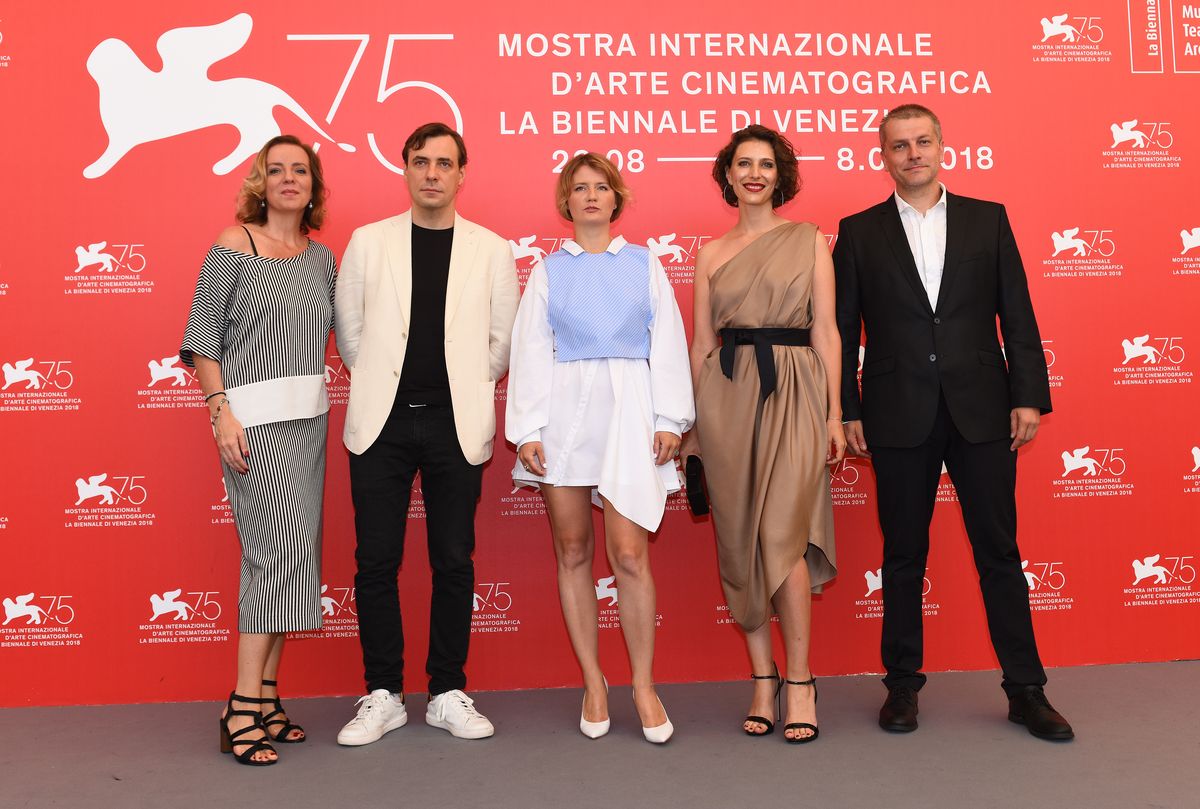 Alexei: Following the results of the shows, which were in Moscow and St. Petersburg, people at the end asked a variety of questions, most often asking why the main character is silent. But Siberians, who were at the premiere, did not raise such a question. We then discussed the film with them, and they said that they understand well why he is silent. Because he can not say cherished. Even in the film there is a character - the grandfather, the father of the heroine Kudryashova, he plays Yuri Kuznetsovhe is also a silent man. Thus it is shown that these people tend not to fray language, it is passed down from generation to generation.
But I want this author's cinema to be perceived by the Russian audience a little more openly, so that we are not afraid to talk about something. You do not think that if you shoot more bold films not only for a certain category of viewers and try to show them to more people, then the situation will somehow change?
Alexei: And what do you mean by "try to show them to more people"? Here there is film distribution. Film distribution in our country is a business. The distributors and cinema networks, when they take to show a certain film, assess its rental potential: how many, in their opinion, people might be interested in such a movie. Depending on these predictions, they calculate the number of copies and cinemas in which the film will be shown. Forcing people to watch a movie, because "it will make you different," is unrealistic.
Natasha: As in any other country. There is always author cinema and there is mainstream. There is nothing unexpected.
Alexei: We clearly understand for ourselves that there is an audience for which this movie may be interesting, there is an audience that is interested in a completely different movie. There are, of course, MARVEL fans who are interested in Russian author cinema, but there are far fewer such people than just MARVEL fans.
Natasha: Copyright cinema is generally quite difficult to watch, for an untrained person it is sheer torment. Still, in order to enjoy the 100-minute flow of life on the screen, you have to be prepared. I remember very well how I began to watch the first author's films of great Italian directors, in 20 minutes I could hardly open my eyes. This is a process, you learn it, but first you need to want to learn it.
Alexey Chupov and Natalia Merkulova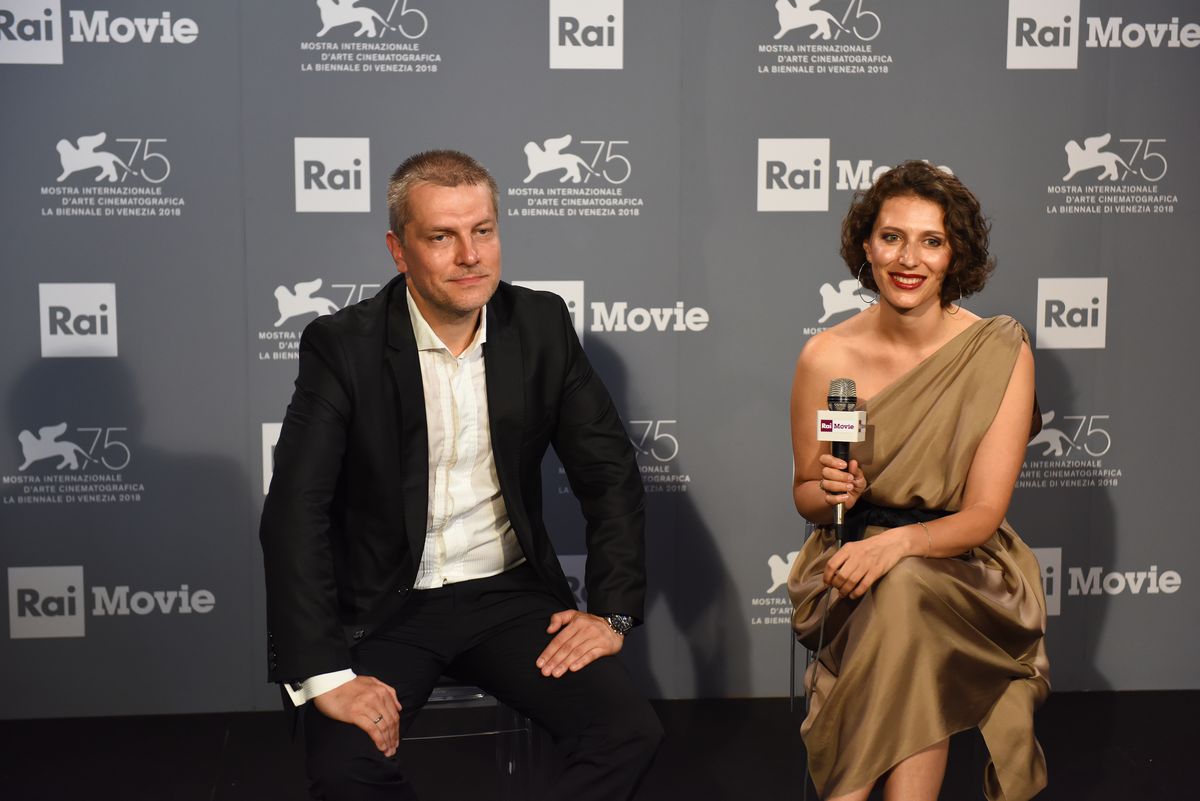 Alexei: People go to the cinema to be surprised, but everyone has different needs for surprise. Someone wants to be surprised by something serious, and someone wants to be surprised in the process of rest. Therefore, a different movie is shot.
When you get feedback from the audience and they suddenly find a meaning in the film that you didn't put there, how do you react?
Natasha: At the St. Petersburg premiere, on the contrary, I was surprised by the girl who saw how different cultural layers were mixed in our frame, for example: the icons are standing, the sculpture of a shaman, a Chinese kitty with a foot. And she said: "I understand, this is Siberia, there is paganism, and Orthodoxy, and China is near, therefore everything is so mixed up." And I was shocked how she saw everything. Because it was all at the level of explication that was laid, and I wrote a whole treatise to the art director, remembering how our family lived.
Alexey: And about the meaning that we did not lay ... Here, for example, one English critic wrote about our film in his article: "Despite the multiplicity of meanings, the film was a success." And I thought, why is the "plurality of meanings" bad? Why should there be one meaning, as written on the fence. We read Russian classical literature, and there it is sometimes possible in one work to find different messages for ourselves. Therefore, on the contrary, we really like it when they find in the film that which we deliberately did not put in there. Sometimes you think: "Yes, indeed, you can look at it like that." I don't like to clarify what's what: "That's why it happened," "I meant this." Interestingly, people themselves carry out some kind of investigation ...
Natasha: It is better to scatter them different master keys more, as in the quest.
Alexey: Yes, by the way, the quest is a good definition.
And where did the soundtrack come from with amazing female vocals that sounded at the beginning and at the end?
Natasha: Our casting director Masha Sudnitsyna was tasked to find an actress for the role of a shaman. I really wanted to find an ethnic actress, Buryatka or Khakaska. She tried many people, beautiful women came, as from the films of Kim Ki Duk - beauties with high cheekbones, such are all incredible. And I told her about the type of some such drunken woman, a folk aunt, almost homeless, who tells such stories (in the film, the shaman woman tells the protagonist a legend about a drake who cheated death - approx. ed.). The singer Sainkho Namchylag came to the tests, I told Masha that she was too beautiful for us. But Sainkho said that she was actually a singer and left us her notes. When we listened to them, our jaw dropped. We took one of the tracks in the movie, it's just called Cyberia. So the music appeared before the movie.
And who else from the actors was casting for the main role, which he eventually received Tsyganov, and which of them looked best in a dress?
Natasha: There were a lot of actors, we will not list them all, we always rake in a wide comb.
It just became interesting, should everyone have tried on the dress?
Natasha: Everyone who reached the final had makeup samples and costume tests, and thanks to all these wonderful actors we understood visually which way we were going, and this was also a useful work for us, so we are very grateful to everyone who came to the sample.
The last question about the dress: in the film there is an amazing scene for the song "My rock and roll" when Yevgeny Tsyganov dances on a rural holiday. She reminded me right away the movie Xavier Dolan and the clip Tea Kinife «passport This On». What were your inspirations for staging this scene?
Natasha and Alexey: We never watched this clip!
Natasha: We are not only talking about it, we must see it. And the movie "And still, Laurence» Xavier Dolana I looked after the installation, because I was told that there are also parallels with ours there.
Alexey: As for the music itself, under which he dances, it was suggested by the shooting itself. This was filmed at a real rural festival, which took place in the village of Kablukovo, where there were shooting. It was a village day, and we asked the locals to allow us to take pictures at their event.
Natasha: Everything went on as usual, first "Blue Frost", then "My Rock and Roll", something like that.
Alexey: Zhenya came out, danced, and we decided that this particular song should sound in the film.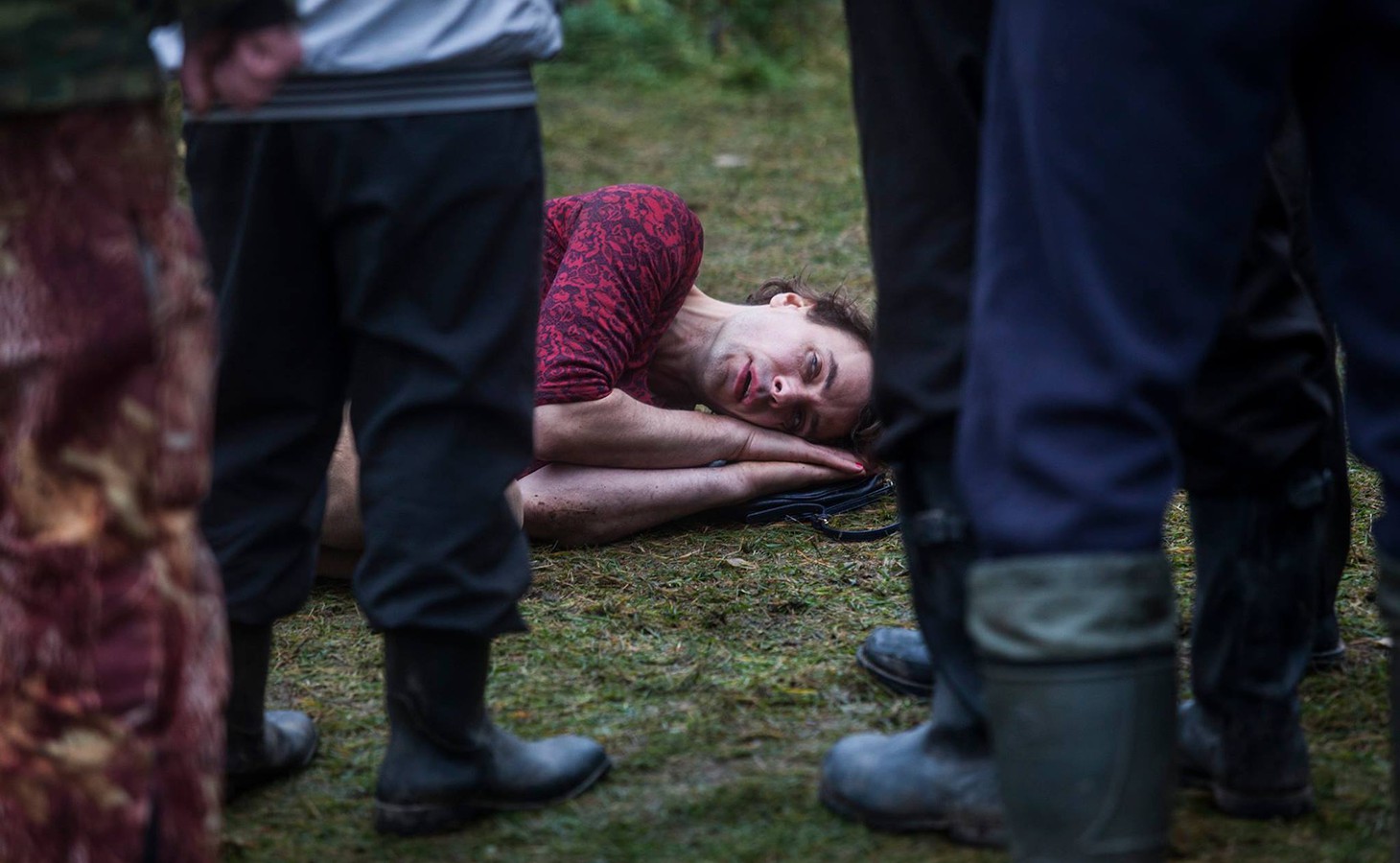 I would also like to talk about the Venice Film Festival. How did you react to what you got into the program? Have you intentionally sent a request to the parallel section?
Natasha: All this was done by our wonderful producer. Katya Filippovashe is a hurricane! I can say that she did everything for this film and even more. We are very happy that fate brought us together, and that she even took on this project and gave life to the script, without it, it's true, nothing would have happened. Even at the stage of the script, she began to participate in a large number of pitching, and before the start of filming about the film already knew in various European funds. In Transylvania, for example, we received a grant for sound reduction. We had only the script, but we already received the reduction of sound. When Katya went to Hong Kong to one of the largest film markets in the world with the first draft, she showed some excerpts and found a company that sells in Europe. Already in Cannes, Katya met with Alberto Barbera, director of the Venice Film Festival, and he said that he was happy to invite the film to the Horizons section. When Katya told us about this, we didn't believe it. True, we needed to be silent about this for two months, nobody could speak, and according to the regulations of the Venice Festival, the film could no longer participate in other festivals.
Alexei: We did a project presentation at the Kinotavr, it was an idea Alexander Rodnyanskywhich at the last stage of the film's production joined in financing and became a Russian co-producer.
Natasha: To be honest, we had no money to finish the film for Venice, and he helped us a lot in this.
Incidentally, I was on your Q & A in Moscow, and you said very funny that "while writing the script, I almost divorced AGAIN." When you work together, how do you soften corners and make compromises?
Alexey: We have moments of collisions very often, because sometimes laziness attacks me and Natasha struggles with this, sometimes with quite radical methods.
Natasha: Pours you a burning aluminum on a temechko.
Alexey: It happens, and at this moment there is some mutual tension.
Natasha: In general, war is always with us when we write. It is very difficult. Alex does not accept any criticism, but I always criticize, otherwise nothing sensible will come of it.
Alexey: I'm not at all accepting. Usually at the first moment when I hear criticism, I sink into a mixture of anger and despair. Naturally, my defensive reaction is not accepting criticism. When everything calms down, we sit down and start working.
Natasha: Anyone who does not know Lesha and is frightened by his first reaction, I say: wait 5 minutes, just sit quietly, it should settle down.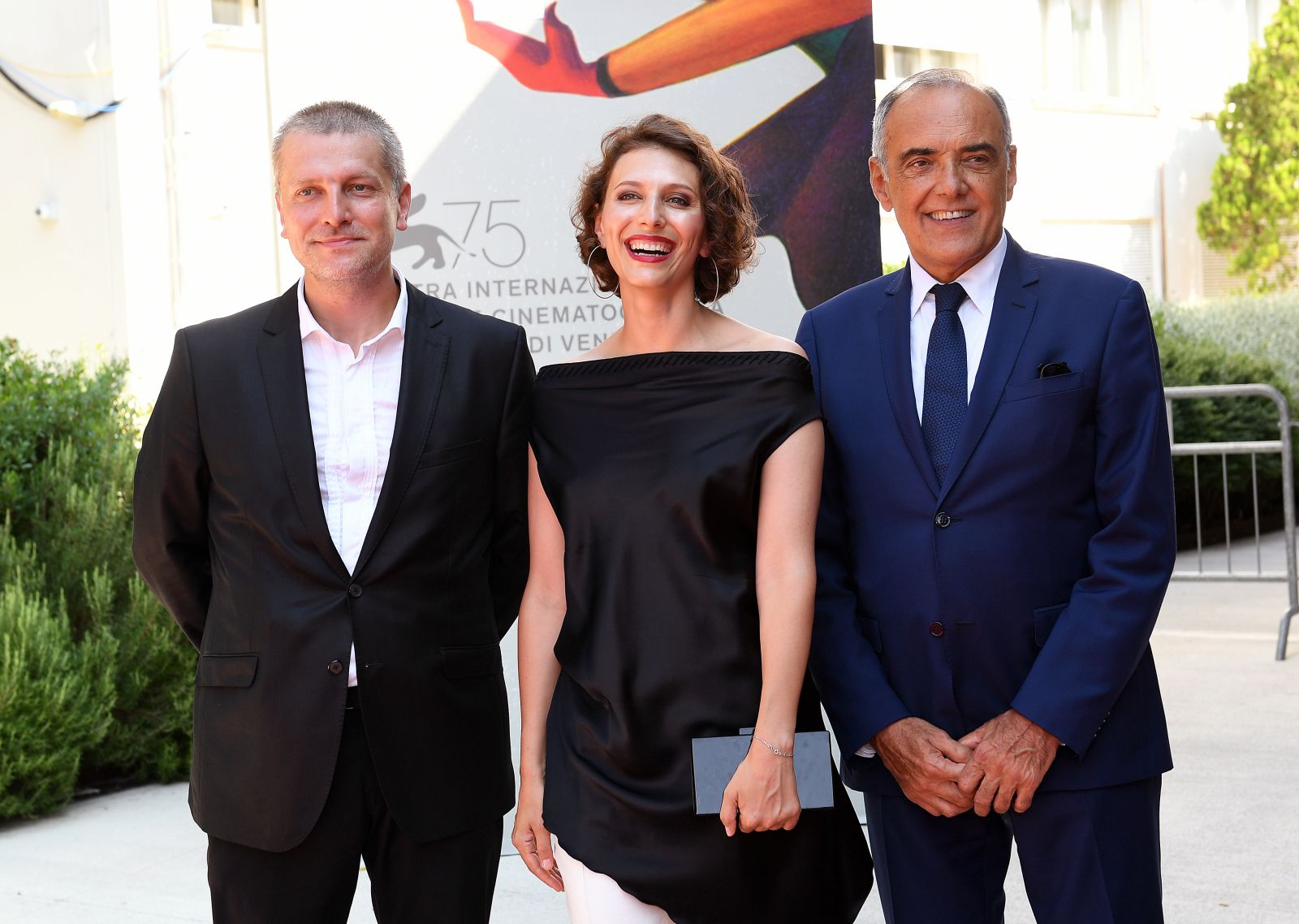 How do you react to the criticism of your films? Do you read reviews?
Natasha: Lesha reads everything, selectively shows something to me, because I cannot show everything, otherwise it leads me to the same despair, like Lesha, and in general spoils my mood.
Alexei: I, in principle, regularly read criticism that does not concern us. I subscribe to the "Art of Cinema" magazine, there are critics I regularly read, because they write beautifully and they draw inspiration from words, because sometimes people are interesting and beautiful in their ability to express their thoughts. Such reading is for me as additional literature. But any criticism is perceived painfully, if you internally disagree with it. When the first reviews of the film "The man who surprised everyone" appeared, I did not agree with some things, in particular, with ...
Natasha: In particular, with the fact that "there is no script." And what is the "primer of errors for VGIK." Although I was not offended by this.
It is difficult to take offense, it sounds like a compliment.
Alexey: I, too, was not even upset.
Natasha: It is obvious that there is a script, we wrote it for a long time, for three whole years. I give a tooth - there is a script (laughs)!
Alexey: This is a subjective opinion of the critic, which means that it seemed to him so. Anyone has the right to such an opinion, but I just do not know how to react to it. I just disagree. There was also a nagging for a free hospice, "where did they see free hospices in the outback?" But when we were working on the script, we studied how this all works, including in the outback. In our country hospices are not only in large cities, but also in the regions. Generally speaking, we were surprised at the accusations of embellishing reality.
No film has perfect criticism. Except maybe the Black Panther!
Alexei: And I went with the child to "The Black Panther"And looked with pleasure. Such a film has completely different requirements, not the same as for the author's cinema. You go to him for some specific emotions.
Natasha: Why, you go to be surprised too?
Alexey: This is a different kind of surprise. In the author's cinema, this is often an aesthetic surprise, and in the genre cinema you are tickled with nerves. I look, and such, and such.
Stay tuned and get fresh reviews, compilations and news about the movies first!



Yandex Zen |
Instagram |
Telegram |

Twitter