What kind of radio and
boomboxes
we did not describe - but this selection of vintage techniques can surprise even those who have seen it. So, we meet the list of tape recorders with built-in vinyl player. Yes-yes - with a "pocket", like a cassette decks, or with folding, pull-out turntables!
Sharp VZ-V20 (Sharp VZ-V2500)
Sharp VZ-V20 (Sharp VZ-V2500)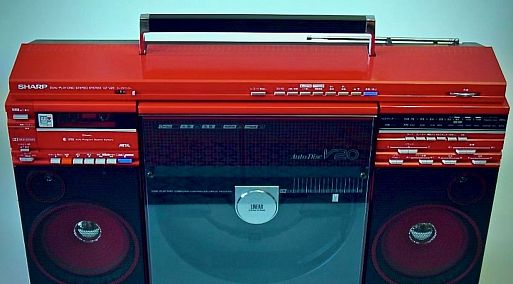 One of the most extravagant radio tape recorders. Many affectionately call it "monster" - and this is understandable. "On board" - a cassette deck, a tuner (AM-FM) and a turntable, located vertically (to install the plastic cover of the disc tray reclines under 45 degrees)! It has a function of rewind and pause, is equipped with a computerized linear tracking system. The drive is passive - but, the main highlight is the playback modes of the disc on both sides! Cartridges, respectively, are also two, as well as dynamically balanced tangential tonearms.

Sharp VZ-V20 (Sharp VZ-V2500) was produced with 1982, its weight is 13,5 kg. TTX is very decent - the frequency response from 70 to 20 000 Hz, the resistance of the speakers is 3 Ohm, the output power is 2 x 8,5 W. The cassette deck was able to work with all types of compact cassettes, its upper frequency limit was 14 000 Hz (signal-to-noise ratio - 62 dB). As a portable version, the device could run from 10 R20 batteries. Our Ads system has proposal on this miracle - for 45 000 rub.
Sharp VZ-V2
Sharp VZ-V2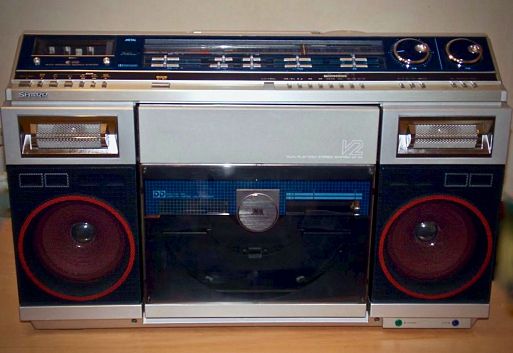 Early version Sharp VZ-V20, issued with 1981. All the same phenomenal reverse of the plate, tangential tonearm, broadband speakers. The radio weighs 17,5 kg and has dimensions 738 x 193 x 459 mm. One Sharp VZ-V20 sold In our system of Ads - for only 45 000 руб.
Sharp VZ-V2000
Sharp VZ-V2000
16 kg "live weight", the speakers got tweeters with acoustic lenses and mid-woofers Red Cone Woofer. Again - a pair of cartridge heads are used - the device can play both sides of the plate without removing it from the pocket and turning it over. The control mechanism is made in the style of Soft Touch. FM band - 87,5 - 108 MHz. "On board" there is also a line input - so that even a smartphone can be connected to the radio. 16 kg of weight and the ability to work from 10 batteries R20 make a radio tape recorder Sharp VZ-V2000 rather a sports projectile, rather than a full-fledged portable version. Prices do not exceed $ 900 today.
Continuation of the article read here.
По материалам сайта Hi-Fi.ru.
Stay tuned and get fresh reviews, compilations and news about the movies first!



Yandex Zen |
Instagram |
Telegram |

Twitter