The movie "
Crystal
"- the full-length debut of the director Daria Zhuk, who nominated for the Oscar for Belarus. We talked to Daria about the 90's, the "American dream" and high hopes.
film.ru: Our subscriber from Belarus told me that in the version of the film that she watched, there was no fragment with a rally. Did you have to cut it for hire in Belarus?
Daria Zhuk: Yes, it was for the rental in Belarus had to cut. I had a choice: either never to make a movie in Belarus and show it for what it is, or to correct it a little. Every society has some inflamed problems, in Ukraine they were outraged by the participation of Husky in the picture, as he openly supported the militias in the Donbas. Distributor asked not to risk it. Nobody forced me to cut this 20-second fragment, asked not to focus on it. We just also have a bit of a clamped society, but still those who need to see the director's version.
This is a historically accurate moment: 96-th year, 26 April. This is the first demonstration, the consequences of which I felt on myself, because then they took away my friends. And we did not participate in it, we just turned out to be nearby. This is another indicator of the time when everything was seething, civil society was defined and everything was filled with endless expectations and high hopes that for my generation were not justified.
film.ru: Did these events trigger your move to the USA?
Daria Zhuk: At that moment I already knew that I would go to America to study. Already being there, I thought: "I will learn two more years and, maybe, return?" - and then I thought: "No, I will learn two more years". By the way, my Moscow friends returned home more often, for example, graduated from Harvard Business School and drove home, but fewer people returned to Belarus. We didn't have such an emotional upswing as we did in 90's in Russia.
Daria Beetle on the set of the film "Crystal"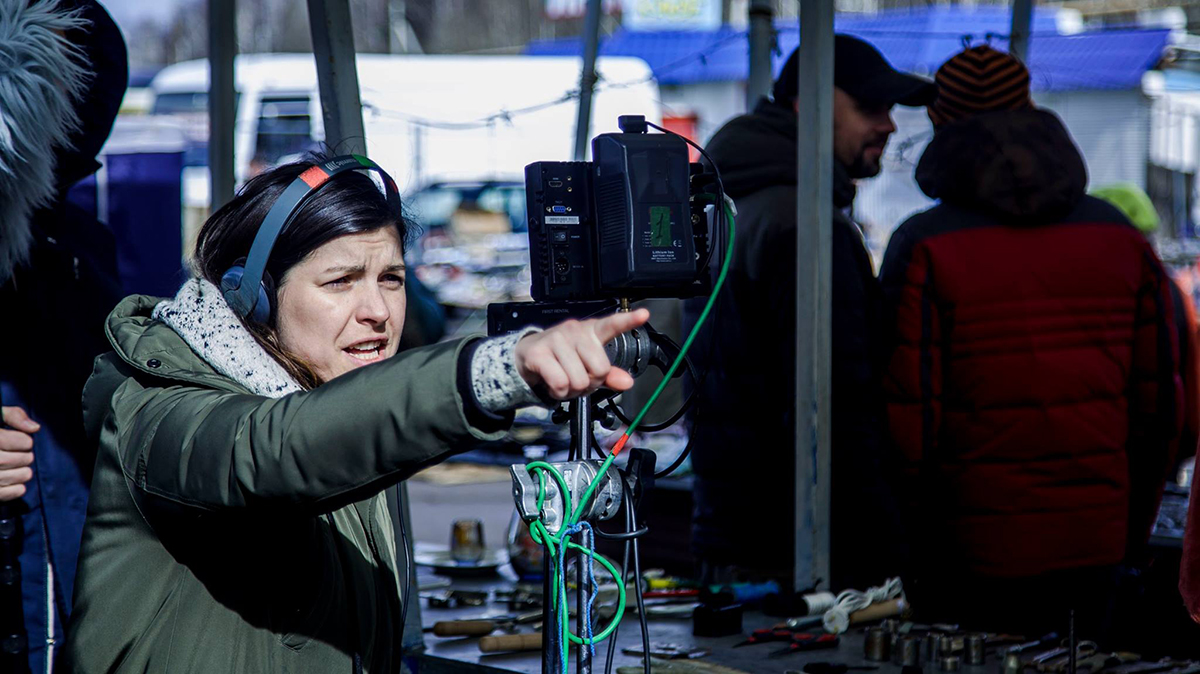 film.ru: By the way, with the Huskies, you thought up a nice way for him to fill a bullet for the hero.
Daria Zhuk: Husky just before filming met Alina, and Alina invited him to Minsk. And here in Belarus it is very difficult to find such texture actors, we are all very similar, there are almost no immigrants. And for the role of a tattoo artist, I just needed a man not from this town, some visiting one, otherwise the hero would simply not have gone to him to deal with his tattoo. By that time, I already listened to his album and offered to rhyme it all with a bullet. Well, really, this moment is read only by those who are in the subject.
film.ru: Yes, yes, at this moment I began to look around to understand who caught the reference. This is when you see cameo in MARVEL films. Wall lee, and also for a second there is such a community in the hall.
Daria Zhuk: It turned out that Dima is a terrific actor, and before that he had not been shot anywhere, but now he has much more connections with the cinema. He already played in the theater, and his music began to sound from the screens. At that time, they only thought that they could take his song as a soundtrack to the film "As Vitka Garlic took Lehu Pin into the house of invalids, It was a year and a half ago. During this time, of course, everything changed
film.ru: Have you already had Crystal screenings in the USA?
Daria Zhuk: Yes, it was shown both in New York and Los Angeles, but this was all connected with the screenings for the Film Academy. The US premiere will be at the Slamdance festival along with screenings at the Santa Barbara festival. For us, this is such a cool and cult place, because it is connected with this ridiculous series, she wanted to go there all her life.
film.ru: I wonder how in America they look at the "American Dream", one might say, through our eyes?
Daria Zhuk: For them, this whole world is a bit exotic, I would say, but Vel is very understandable to them, because it resembles the cool independent heroines of American indie hits. She is close in spirit to them, I initially conceived her as an American character who ended up on East European soil. She is such an individualist ... I just had many such friends in 90, and I wanted such brightness and incompatibility. But at the same time she doesn't care, of course, from here. The viewer is a little more difficult with a small town and its characters. In addition, there is a lot of dialogue there, we have suffered a little with the translation, but they say that it turned out well. My friends came to the show in New York, and they, like the moderator of the conversation, really liked this claustrophobic 90's atmosphere.
film.ru: You said about girlfriends, and you also dressed brightly in 90?
Daria Zhuk: I was very eager to do this: I put on everything yellow and scared people on the streets.
Shot from the movie "Crystal"
film.ru: And what was their reaction?
Daria Zhuk: For many, a defensive reaction worked, it is clear that no one bothered you, because everyone thought you were a total freak. We were such a bunch of people ... 300 people who were cooking in this techno-party. It still exists, we normally have this movement developed. In St. Petersburg and in Moscow, it all started in 93, and moved to us.
film.ru: Did you also feel like an alien in your hometown?
Daria Zhuk: Well, it was a bit scary in such a way to challenge society, yes. But still inside this subculture you feel at home, you are like such a small family. This feeling of community supports you. There were people much older and more interesting than me, well-read, who traveled a lot. All this is very supported.
film.ru: It is clear from the film that the heroine's experiences are to some extent autobiographical, so I'm interested to know from you: having realized your cherished dream, breaking free from your native country, to the and of dream, did you find what you dreamed about? And could you also grow professionally in your home country?
Daria Zhuk: Yes. I found the confidence to do everything that I had in mind. This has come through both education and staying in a society in which the value of an individual is much higher than ours. On the other hand, such an absurdity: to make a film, I had to go home. It is very important to know the world you are talking about, this is a great value for the first film.
film.ru: Therefore, despite the fact that in America you probably had more opportunities for a big debut, did you decide to return to your homeland?
Daria Zhuk: I always knew that I wanted to make a movie about my generation, about people who dreamed of escaping to America (and many had escaped), I just did not know that this would be my first film. I myself was surprised that I managed to launch this project into work, since it was initially very risky. For American producers, all these distant countries are very incomprehensible, so no one really knew whether this project would reach the finish line. But you could make another movie. I had a ready script, more autobiographical, where the heroine is already moving to America and living there for the first year. He would also go well, maybe I will take up this project some day, but not now.
film.ru: Set aside the script for a more appropriate moment?
Daria Zhuk: Yes. This is also a story of growing up, but now I want to do something else.
On the set of the film "Crystal"
film.ru: Do you already have plans for the next film?
Daria Zhuk: There are basting, yes. I'm still afraid to think about it, because when the audience comes up, they thank for the film and ask: "What is your next project?" - I realized that you just need to answer: "2 Crystal", because everyone wants to continue. But it's cool, when after viewing a picture you want more and more, it means that you did not tire the viewer, and this is important to me.
film.ru: Do you think film education is needed now to become a director?
Daria Zhuk: I am amazed by people who shoot without film education, for me they are a mystery of nature. It seems to me that without film education is very difficult now. When the cinema only appeared, of course, no one had any education yet, everything was somehow intuitively filmed. But now the cinema as an art form has already settled down, and some things need to be known already. That is, I could not have made this film without a specialized education. I wanted to be completely confident in what I was doing. The difference is this. You, as a creative person who has already shot and mounted something, you know how it can be done in one way, you see only one solution to the problem. And after the film school you see five solutions to the same problem. I would also say that these are the best years in my life, I would advise everyone. True, the question is still in price, education is now much more expensive.
film.ru: Did you study at Columbia University?
Daria Zhuk: Yes, in Columbia. It was very difficult, you come, and you are immediately told that you do not know anything, and you feel like a child who needs to re-learn to walk. It is especially difficult when you are already a formed person, and at that time I was already 30 years old, it was very painful. But then you immediately get younger at 10 years!
film.ru: Now there is still a strange tendency to debut in directing with a film about 90, this was the case with Balagov's "Tightness", and the film "Found a Spit on a Stone" recently came out ...
Daria Zhuk: I also think about it often. When I saw the trailer for the Kantemir film, I was shocked, at that time I had already mounted Crystal. Apparently, we have already formed the image of 90-x, and he wanted to somehow edit. There were, of course, cult films about that time, but I wanted to add my voice, so Crystal was easy to do. When I was sitting with my producer Valera Dmitrochenko, he also asked why I chose 90. We began to watch his filmography, and he worked from the 89 of the year on Belarusfilm, and it turned out that nothing was shot from 1992 to 1998 for the year. Now I understand that the films were, of course, made, but these directors were almost killed. Many films did not reach the final stage. I was talking to Sergey Mokritsky, and he told me about all these wonderful films that just disappeared along with the people who made them, because such a crazy time. Therefore, there were some white spots in 90-x, which is worth paint over.
Stay tuned and get fresh reviews, compilations and news about the movies first!



Yandex Zen |
Instagram |
Telegram |

Twitter