A curious conceptual drama about the fisherman, love and domestic violence - which, however, is too trying to seem smarter than it actually is.
Buy
ticket
Baker Dill is a gloomy fisherman from Plymouth Island. He earns that entertains fishing tourists, and in his spare time pursuing one particular fish - a huge carp, which has already been broken several times from his hook. Somewhere far away, in a past life, he had a wife and son, only when he shed blood in Iraq, the spouse went to the cruel billionaire. One day she somehow finds Baker and complains that her husband is terrorizing both her and their son. She asks the hero to deal with her husband, to kill him while he is fishing in the open sea. Baker does not agree at first, but some new details about him and the world around him change the plans of the hero.
Frame from the film "Sea of ​​seduction"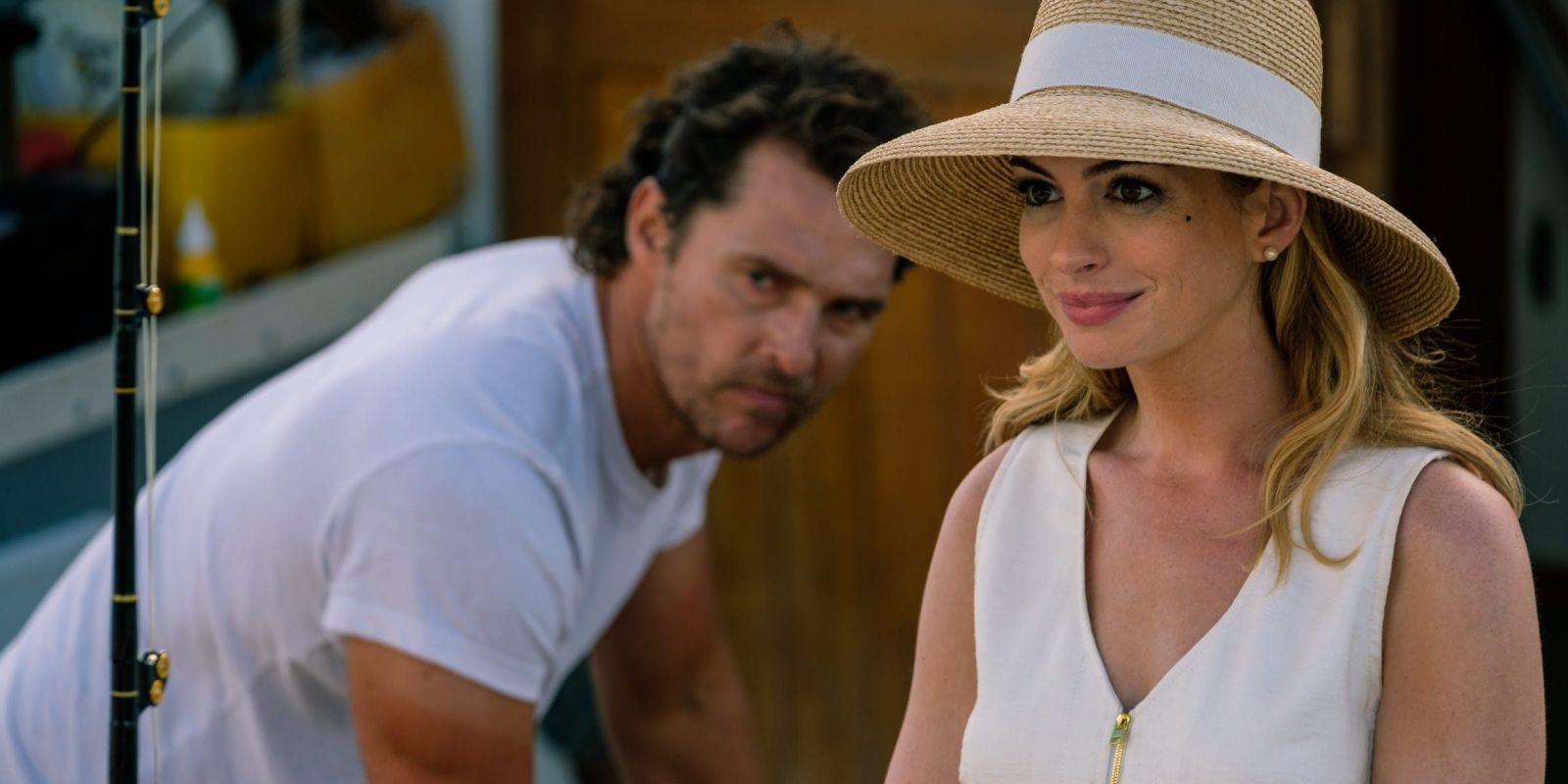 Not surprisingly, the "Sea of ​​seduction," despite the star composition, so quietly sneaked into the rental. Until the last moment, it was decidedly incomprehensible what kind of film it was for, who he was for and, most importantly, why - even the trailer didn't even bring clarity to this question. The movie, which was supposed to sell the film to a potential audience, in fact only caused more bewilderment: how ugly and vague this confusion turned out, since even marketers did not understand how to advertise it.
Frame from the film "Sea of ​​seduction"
But, as it turned out, the trailer perfectly reflects the film - at least its first half. Everything is just as messy in it, only the scales are slightly larger: more than half an hour McConaughey floats back and forth in a boat, screaming ridiculously and trying to catch the fish of a dream, he is tormented by strange flashbacks and obsessive ideas that he, however, is not going to do anything with. Ann Hataway с Jason Clarke they fly into history without warning at all - they bring the central conflict with the film, in theory, quite acute (the question of life and death, as usual), in fact, pushed far into the background. Matthew McConaughey is much more interesting to run naked, drink and jump from the cliff than to solve the problems of his former little wife, and the director Stephen Knight the texture of a tropical island is much more powerful than the tragedy of domestic violence.
Frame from the film "Sea of ​​seduction"
Then, somewhere in the middle of the film, a twist happens. So, suddenly, the hero falls on his head in the face of another character "from outside" - a strange clerk, not dressed in a strict business suit for the weather. He explains that everything, of course, is not what it seems, and completely breaks the rules of the game: in the second half we are watching a completely different movie, a different genre and mood. In fact, as this, in general, the key moment is included in the story, there is some strange charm - it seems that such a scenario of tactlessness did not even allow itself Shyamalan in his worst years.
Frame from the film "Sea of ​​seduction"
"The sea of ​​temptation" sharply turns off somewhere in the wilds "Twilight Zone"Or"Black mirror", And his plotless bacchanalia turns into a banal, but quite a complete parable about escapism and, yes, all the same domestic violence. It sounds, however, somewhat more interesting than it looks - McConaughey's emotional throwing here is quite conditional, and its internal barriers are almost not supported by external difficulties, because of which the story goes to a junction on a level and almost conflict-free road.
Directed by Stephen Knight as if at first he invented the twist itself, and then "built up" everything else on it - however, it is quite likely that it was so. Too "A Sea of ​​Temptation" relies on its "hi-concept", not trying to offer anything from above to it, and the painfully complex face begins to squirm Knight as soon as it comes to a central turn. Yes, the main idea here is really curious, but not in the context of the film itself, but rather as if from the side - just as the street madman is curious, shouting strange things in the faces of passersby. I don't want to hate this film at all, it may even be a good Gilty Play, but it's a shame that such a good idea occurred to a writer who doesn't quite know how to work with it.
Since 24 January at the cinema.
Stay tuned and get fresh reviews, compilations and news about the movies first!



Yandex Zen |
Instagram |
Telegram |

Twitter